Locke & Co, Porcelain
Edward Locke worked in the modelling department while at Royal Worcester Porcelain during the same time as his friend James Hadley, we have compiled a brief history of Worcester Porcelain. He went on to set up Locke & Co Worcester on 1896 and his own factory works at Shrub Hill, he also rented some of this factory space to James Hadley.
The porcelain produced was very similar to Royal Worcester, so much so that Locke & Co and Hadley were taken to court in 1901 by Royal Worcester to prevent them using the title Worcester on their porcelain without making it clear they were not produced at the Royal Worcester Porcelain Factory. Following the agreement in 1902 they were made to clearly distinguish their goods from those of Royal Worcester. Following this the back stamp for both Hadley & Sons and Locke & Co was changed.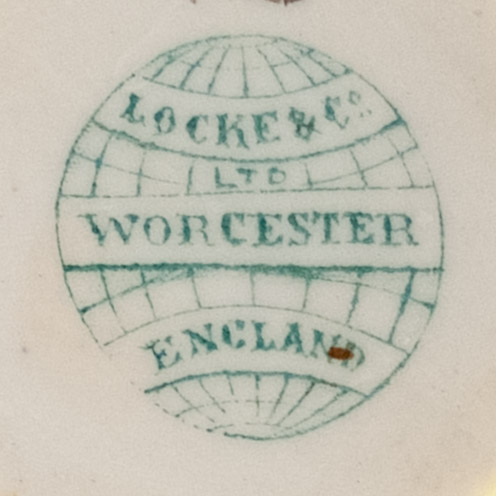 Backstamp marked Locke & Co, Worcester, England are c. 1898-1902
Backstamp marked Locke & Co Ltd, Shrub Hill Works, Worcester are c 1902 - 1914
The factory went into decline and was closed in 1914.