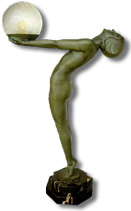 Edmé Samson et Cie, Paris
Chelsea Gold Anchor
---
Samson porcelain decorative figure group in the style of Chelsea gold anchor period
Edmé Samson (1810-1891) openly reproduced porcelain from his Parisian factory during the 19th Century. The factory was established in Paris in 1845 and continued production into the middle of the 20th century. They produced some exceptionally high quality pieces inspired by, and copied from, some of the great 18th century manufacturers such as: Meissen, Chelsea, Worcester and many others. Despite originally being reproductions of the time, the earlier pieces rest firmly within the category of Antiques. Some of Samson's very best pieces reside within museums and are highly collectable in their own right.
This piece is crisply modelled and brilliantly decorated, produced late 19th century this figurine is in the style of an 18th century Chelsea figure group with pseudo Chelsea factory "Gold Anchor" period c1756-69 mark. However, the porcelain is clearly continental "hard paste" body and genuine Chelsea porcelain would have only ever been produced in soft paste. The enamel palette and gilt are also late 19th century, rather than the mid 18th century that this piece is copying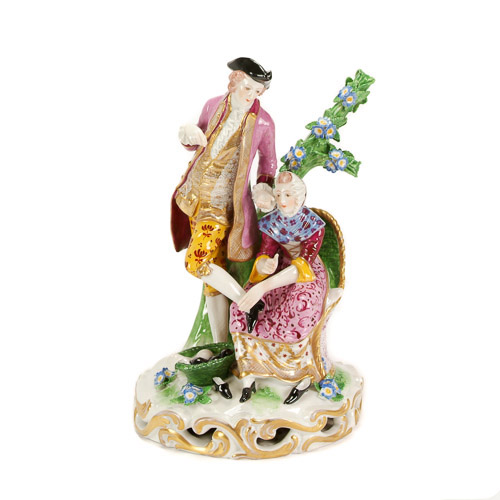 The group depicts a courting couple in 18th century attire with some foliage and floral bocage, the gentleman having his shoes cleaned by the lady resting in a summer garden chair. Well modelled the figures are beautifully decorated in enamel and gilt on a gilt rococo scrolled base with pseudo Chelsea gold anchor mark to plinth.
Condition
There are no cracks, hairline or otherwise and no restoration. Some occasional wear to the high points of gilt commensurate with age. As is par for the course with antique bocage, when looking extremely closely the tips of a handful of floral and foliage leaves can be seen to be chipped. They go unnoticed and thankfully there have been no attempts at restoration; the price has been adjusted accordingly.
SOLD
---
Mouse over or touch image to zoom
---