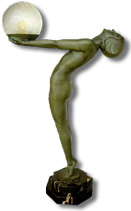 Grimwades Rooster Tea Pot
Chanticleer Cottage Ware by Royal Winton
---
1930s Grimwades Royal Winton Cottage Ware Rooster Tea Pot
A striking example of an Art Deco period Staffordshire majolica cottage ware novelty rooster teapot by Grimwades, Royal Winton, England. This vivid hand painted teapot design was issued circa 1936 and is part of the Grimwades Chanticleer series produced by Royal Winton.
This is a good early version and the tea pot has been well painted and retains it's original strong gloss colours. There is no flaking or chipping of the painting and no restoration. It is unusual for this age and design of teapot to be free from paint damage or restoration as it is very common for the fragile hand painted finish on these to have either flaked/chipped or been restored at some point.
This would make an excellent centre piece amongst the other rooster and hen tableware's by Grimwades within the Chanticleer series such as their cruet sets, creamers, sugar bowls and toast rakes.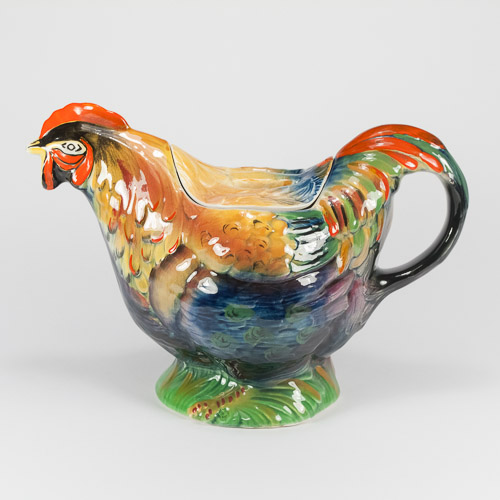 Backstamp in green ink on base of teapot: ROOSTER REG No 810175 MADE IN ENGLAND. Underside of teapot lid marked in green: PAT NO 301262
Sold
Unfortunately this particular item has been sold. We may have the item you are looking for on our new website. Please visit our current website to find items for sale
---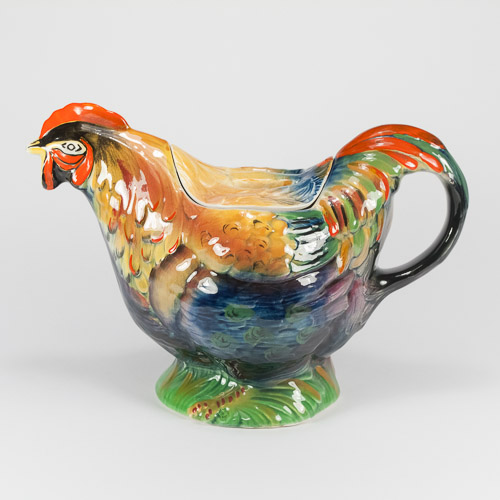 Mouse over or touch image to zoom
---