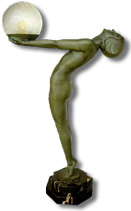 Worcester Antiques
Antiques & 20th Century Collectables
Eighteen Luohan Snuff Bottle
JINGDEZHEN KILNS, 1820-1880
---
Moulded Famille-Rose Porcelain 'Eighteen Luohan' Snuff Bottle, 19th Century
Antique Chinese porcelain snuff bottle moulded in high relief with a continuous scene of eighteen Luohan (alternative spelling 'Lohan'). Decorated in an 18th century palette of famille rose enamels: yellow, blue, pink, coral red and light green, on opaque glassy white ground with gilt highlights. The base with an apocryphal Qianlong (1736-1795) iron red single row four character seal mark within the recessed flat oval foot.
Dates late Qing Dynasty 1820-1880 and from Jingdezhen Kilns.
The eighteen Luohan (or Arhats) are set amidst enamelled lingzhi clouds on a white ground. The heavily relief moulded eighteen Luohan are uniquely identified by their various attribute or engagement in activities: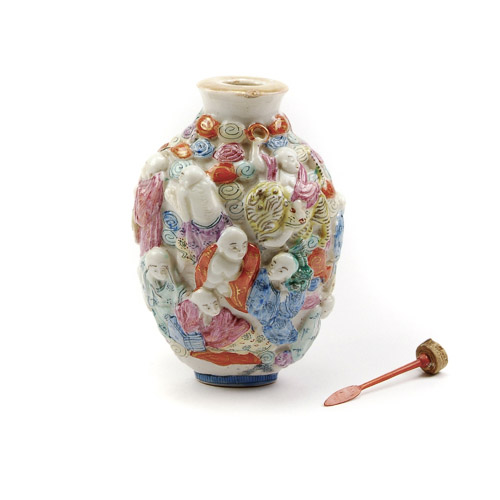 Taming Tiger Lohan Pindola can be seen riding his ferocious tiger, enamelled in yellow, and with his precious ring held high and highlighted in gilt. Raised Pagoda Lohan Nandimitra with a seven storey pagoda raised above his head, enamelled in coral red, with seven gilt highlights. Laughing Lion Lohan Vajraputra can be seen with a playful lion cub, enamelled in light green, leaping over his shoulder.
Condition
This is a good example, well moulded and enamelled. Although without the entire stopper, it does benefit by retaining its original red stained bone spoon mounted within rolled cork; preferred over a later replacement complete stopper.
Minor use related wear commensurate with age and a tiny chip under the rim of lip (picture 9). There is also a very small fired porcelain fill to the rim that appears original to the snuff bottle, all unobtrusive.
A similar example was seen at The Ruth and Carl Barron Collection of Fine Chinese Snuff Bottles: 16 September 2015, Christies New York, Rockefeller Plaza: lot 309. This indicates the complete stopper would have been porcelain and although reticulated, of note is the identical form, enamel palette, gilt, neck shape and moulding.
7.3cm high, 5.5cm wide, 4.5cm deep.
---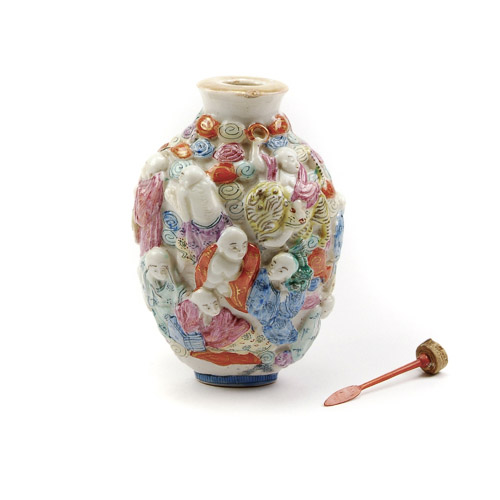 Mouse over or touch image to zoom
---