1900
Lovat Scouts
Stalkers Telescopes used: Ross, Stewart, Lord Bury etc.
The first recognised British snipers started with the Lovat Scouts, at this time they were called 'sharpshooters'. A Scottish Highland regiment formed in 1900 that earned high praise during the Second Boer War (1899–1902). Their skilled use of telescopes, observation and shooting, had been developed from deer stalking in the Scottish Highlands (or from any big-game point of view) and was a key to their success.
Also, the key to success was their use of the Ghillie suit (camouflage suit) which they introduced to sniping. They participated as and passed on their skills to other sharpshooter and observers for British and Commonwealth nations during the early stages of WW1. They began training snipers and observation techniques officially in 1916.
c1902-1910
GS MKII
Signalers Telescope
The MK. II service production was c1902-1910, then replaced with the MK. III.
c1910-1915
GS MKIII
Signalers Telescope
The Mk.III service production was c1910-1915. The Mk.III would have been in use at the start of WWI in 1914 and then gradually replaced by the MKIV when it came into production early 1915. However, between the second Boer war and the very beginning of WWI, sniping (as it is known today) was not officially recognised by the military, and non-military stalking telescopes remained popular with 'sharpshooters'.
1914 - 1918
WWI
28th July 1914 - 11th November 1918
Early WW1
Stalkers Telescopes
Ross, Stewart, Lord Bury etc.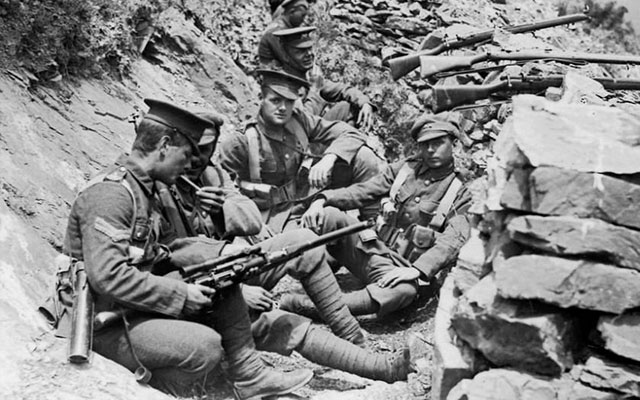 Image above shows a side scoped Lee Enfield. Note the Corporal's leather case for the telescopic sight on the rifle. The sight was manufactured by the Periscopic Prism Company.
Major Hesketh Hesketh-Prichard began to request the allocation of signalers telescopes for snipers and observers c1916. Prior to this time for those that owned them, it was common to use one's stalking glasses. Examples would be handheld, lightweight and approx 20X. They included makers such as Ross, Stewart and scopes such as The Lord Bury. The military issue signallers GS Mk II and MK III and Naval Telescopes would probably have seen some use as well.
High-grade quality scopes owned by the big game hunting upper classes as well as gamekeepers and ghillies from the highlands remained popular throughout.
WW1 Scopes
SMLE Periscopic Prism Co sight (approximately x2.5)
The previous image showed a side-scoped Lee Enfield used for sniping during WW1. An interested party contacted us and kindly supplied some fantastic pictures of their same scope, leather scope case, and side-mount scoped SMLE.
The images below are of a WW1 period scope manufactured by the Periscopic Prism Company. The scope is approx 2.5X and the leather case, in this example, has the rifle number embossed in the leather.
Below: SMLE Rifle with the above Periscopic Prism Company Scope fitted sidebore, male mount on scope and female side mount on rifle.

1915
Snipers gain recognition
Outclassed by German Snipers early WWI
Unfortunately at the beginning of WWI Sniping did not receive necessary recognition and the British suffered heavy losses to the well equipped and higher numbers of skilled German sharpshooters using telescopic sights; initially, casualties were believed to be the result of stray bullets and lucky shots.
The Germans, as a nation across all classes, were keen sharpshooters and game hunters who used telescopic sights. For the British, such activities were the preserve of the upper classes, who perhaps considered telescopic sights unsportsmanlike.
By 1915 the term "sniper' was used, now understood and feared. Dismayed, many officers and those with skills in game hunting, began to train infantrymen who demonstrated an aptitude independently. At this time there was considerable use of 'home' equipment, borrowed hunting rifles, scopes, telescopes and binoculars.
1915 also marked the official recognition of the need for sniping within the British Military, and Major Hesketh Hesketh-Prichard was permitted to set up a school of sniping. Below a sketch (dated 1917) of Major Hesketh Hesketh-Prichard: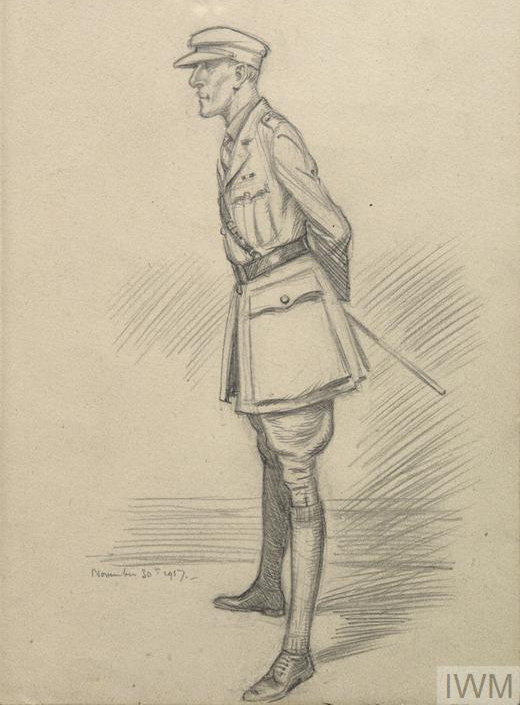 1915 - February
TEl. SIG. MK.IV (Also GS)
The MK. IV Signalers Telecope service begain in February 1915. The image above is our own 1916 Negretti and Zambra telescope.
1915
Sniper Observer pairs during WW I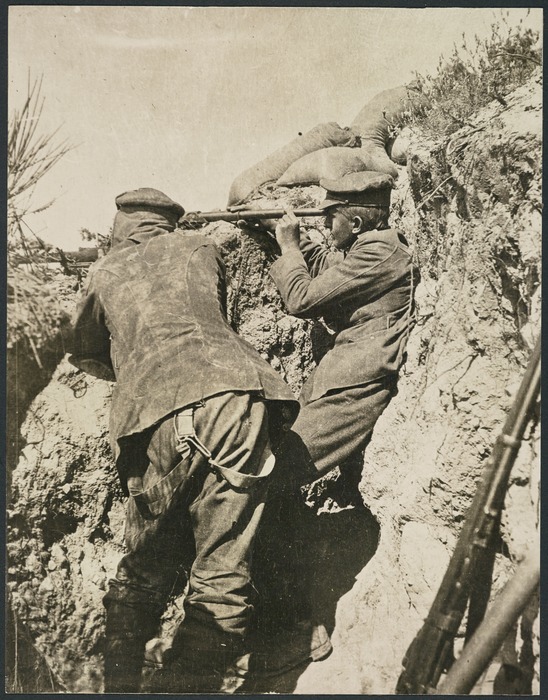 The GS MK. IV was issued to Australian snipers who worked in pairs during the Gallipoli campaign April - December 1915..
The image above shows Two World War I soldiers in a trench during the Gallipoli campaign in Turkey. Photograph taken by an unidentified photographer in 1915.
This image is very important as it shows a sniper & observer pair in Gallipoli using a military Tel. Sig GS telescope while the sniper aims his Lee Enfield. This basic technique is the foundation of sniping developed during WW1. Furthermore, the Lovat Scouts (who were skilled snipers/observers) also attended Gallipoli and may have helped encourage such techniques.
1916
First School of Sniping
Linghem, France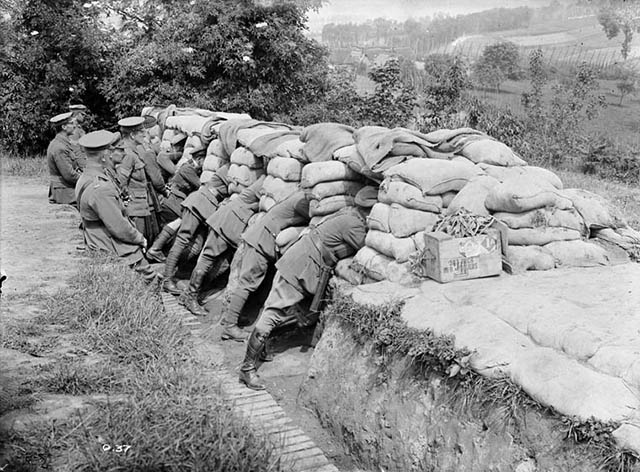 In the Spring of 1916 at Linghem in France, Major Hesketh Hesketh-Prichard founded the first army school of Sniping, Observation, and Scouting (SOS). Considerable use was made of the skills of the Lovat Scouts in training snipers in observation and fieldwork. Hesketh-Prichard was fundamental in developing sniper skills, and he understood how critical a good telescope was for successful sniping. He advocated the allocation of the signalers spotting scopes (GS MK IV) for snipers working in pairs; crucial to success was one man shooting and one man finding and observing the targets with the telescope as well as confirming kills though skilled observation.
Major Hesketh-Prichard's focus on exceptional 'glass-work' observation and sniping techniques and counter-sniper skills had a profound effect on the success and survival of the men fighting in the trenches and the outcome of WW1.
The image above shows Canadian Sniper officers in training at Mont-des-Cats, France in June 1916. The Canadian divisions had their own sniper training school located at Mont des Cats. Please contact us if you have an image you would like to provide of the First Army School of Scouting, Observation and Sniping at Linghem.
Post WW1
MK. VI - OS. 717. GA
There was never actually a Mark V, instead a MKIV**, which was a MKIV brought up to the same specs as the MK VI.
No longer marked as a G.S, the MKVI was designated part number OS. 717. GA and manufacture begain post WW1. The cumbersome extra magnification eyepiece and pouch remained, however, the tubes were now blackened and the eyepiece held a filter rather than a blank shield. The telescope remained expensive to manufacture in comparison to its replacement in 1939 by the Scout Regiment MKII
Well maintained MkIV's would remain in service as late as 1970/1980 until lack of spares and replacement lenses forced retirement.
The image above is our MK6 telescope.
WWII service
MK. VI - OS. 717. GA
WW2 service.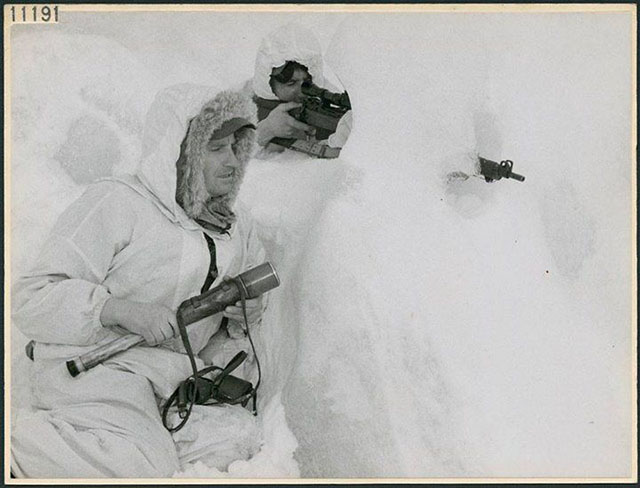 During WW2 the MK 6 was frequently supplied with the CES for the No.4T Snipers chest but without the extra magnification lens and pouch. Furthermore, many observers would continue to use their 'favourite' telescopes or a GS. MK VI during WW2.
The image above dates to late WW2. It shows a sniper observer pair of Lovat Scouts during winter mountain training in Canada. The sniper with the Lee Enfield 4T and the observer with their telescope. Of particular interest, the telescope is their own or possibly a G.S (but the sunshield seems too short) and not the Scout Regiment telescope. On close examination, the image shows there is no extra eyepiece attached to the leather shoulder strap.
1939 - 1945
WW2
1st September 1939 - 2nd Septemeber 1945
1939
WW2 - Scout Regiment MKII
1939-c1980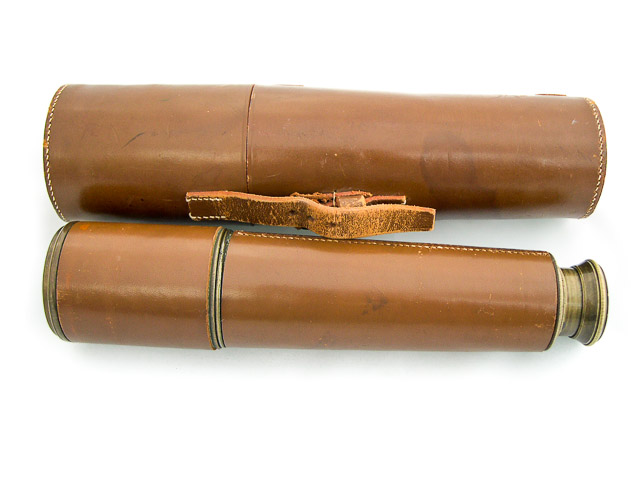 1939 saw the introduction of the highly regarded Scout Regiment MKII telescope. These scopes retained excellent optical qualities while being lighter, smaller and easier to use than the G.S scopes. They did not use different magnification eyepieces and settled at an ideal 20x magnification.
The majority of MKII telescopes were produced during WW2 and with the assistance of skilled armourers remained in service for many decades after. For the most part, the telescopes had leather cladding and leather cases. Towards the end of the war, most scopes produced had thermoset claddings. After WW2, as supplies improved, leather cladding was re-introduced. However, the more robust water-resistant thermoset cladding remained popular.
The image above is our own Scout Regiment MKII made by Broadhurst Clarkson.
1942
Lee Enfield No4 (T)
Scout Regiment MKII part of CES for No4T Sniper kit.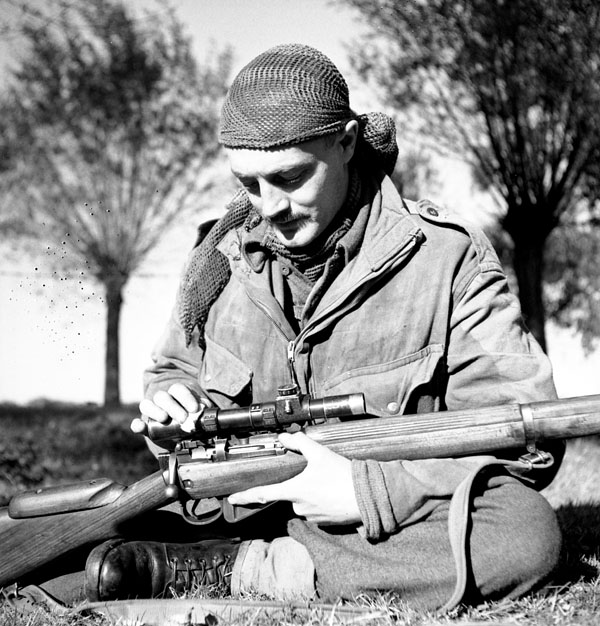 Lee Enfield No. 4(T) officially issued early 1942, although it is believed some rifles were issued to Commando units earlier than 1942. The scout regiment telescope was part of Sniper CES.
The image above shows Sergeant H.A. Marshall of The Calgary Highlanders cleaning the telescopic sight of his No.4, MkI(T) rifle during a scouting, stalking and sniping course, Kapellen, Belgium, 6 October 1944.
1970-c1992
L42A1 Sniper Rifle
MKII Scout Regiment continues as CES Sniper Issue

With the introduction of the L42A1 rifle (modified 4T) the Scout Regiment MKII continued as the CES telescope for the L42A1 Sniper chest. We believe, generally, depending on maker, telescopes with +25,000 serial and thermoset cladding are a good match for an original L42A1 CES chest.
Both the L42A1 and Scout Regiment Telescope continued in service during the Northern Ireland Conflict as well as the Falklands war.
Later, c1980, while the telescopes themselves didn't change, they became known as Telescope Straight Cased. The well-made Leather cases continued to accompany the telescopes, however during the 1980's some cases were replaced with the green plastic type.
1985
Accuracy International L96A1
Replaces No4T and MKII Scout Regiment no longer CES
As spares (particularly objective lenses) dried up, damaged MK11 scopes were retired at a rapid rate. The sniper rifles is no longer a Lee Enfield and our research ends at this point.