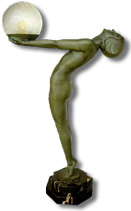 Charlotte Rhead Vase for Crown Ducal, Pattern 5393
A.G. Richardson, Tudor Rose
---
Black and Gold Tudor Rose Vase c 1938
Charlotte Rhead Vase for Crown Ducal, with black and gilt enamelling on snow glaze ground with black tube line print in the Tudor Rose 5393 pattern. The vase is ribbed shape 129 and standing 22cm high.
This pattern is the rarest recorded Charlotte Rhead pattern and has only one equal, the Omar pattern 4036. They share joint position as the rarest Charlotte Rhead recorded patterns. The Omar pattern was last seen at a Fine Art auction in February 2011 from Bernard Bumpus personal estate.
The vase dates to 1938, while Charlotte Rhead was working for A G Richardson under the Crown Ducal brand name. The style of the Charlotte Rhead signature on the base and the green Crown Ducal Back Stamp are both in keeping with this date.
The vase has a wonderful glaze and sense of style from the late Art Deco period, but also retains influences of Art Nouveau and the Arts and Crafts movement that is typical of Charlotte Rhead's designs.
Condition
Undamaged and free from any restoration.
---
Mouse over or touch image to zoom
---